Weekly Real Estate News Tracker- 8 January 2023
January 9, 2023
A lot of activity happened in the Real estate sector this week and you wouldn't want to miss out on any of it! Here's this week's news, Simplease Edition :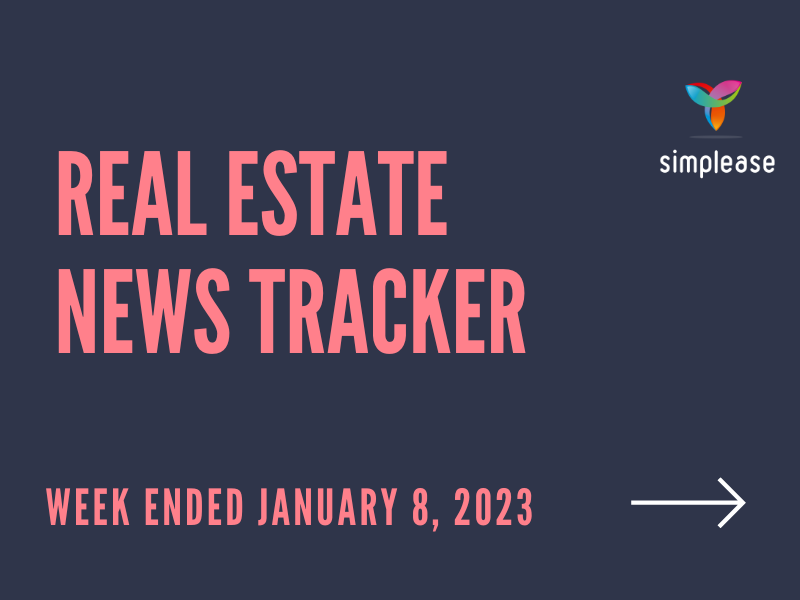 INDIA UPDATES
1) PE investments in Indian realty stood at $3.4 bn in 2022
Private equity investments inflows into the Indian real estate sector stood at $3.4 billion at the end of 2022. This is at par with the investment quantum registered in 2021, says a new report by property consulting firm Savills India. The brokerage firm expects $3.5-4.0 billion of private equity investments in real estate in 2023.
Read more at: https://housing.com/news/pe-investments-in-indian-realty-stood-at-3-4-bn-in-2022-report/
2) Impact Of China's Real Estate Market On India's Real Estate Market
the Indian real estate market currently seems to be established. With these findings, it seems doubtful that the sector is experiencing or is about to experience a catastrophe. Having said that, much hinges on the Indian economy's continued expansion. The main lesson from the Chinese crisis is that Indian developers should reevaluate their business plans to strengthen the sector by taking into account all financial risks so that Indian real estate markets may avoid China-like circumstances.
Read more at: https://timesproperty.com/news/post/impact-of-china-s-real-estate-market-on-indian-real-estate-blid3548
3) HDFC Capital To Invest In 15 Start-Ups To Drive Affordable Housing
HDFC Capital seems to have come to the rescue of many such entrepreneurs who are trying to make a mark for themselves in the housing sector. The H@ART platform has committed to investing in more than 15 prop-tech start-ups, including at least three start-ups from the HDFC Tech Innovators competition, and has previously invested in companies such as Loyalie, HomeExchange, and Monsoon Credit.
Read more at: https://timesproperty.com/news/post/hdfc-capital-to-invest-in-start-ups-blid3509
4) Top 10 Real Estate Companies in India
The significant real estate market would increase from Rs. 12,000 crores in 2019 to Rs. 65,000 crores by 2040. According to predictions, India's significant real estate industry would grow from US$ 120 billion in 2017 to US$ 1 trillion in 2030 and represent 13% of the nation's GDP by 2025. In India, there are more than 82,000 real estate firms.
Read more at: https://timesproperty.com/news/post/top-real-estate-companies-in-india-blid3466
5) NCLAT allows insolvency proceedings of Nirmal Lifestyle-Kalyan
The tribunal said the CoC may take a call regarding finding out ways and means to complete the stalled projects of Nirmal Lifestyle (Kalyan). With the approval of the CoC, the resolution professional may take steps to obtain interim finances to complete the projects.
Read more at: https://tinyurl.com/54s6rrta
6) Sobha's sales bookings rise 36% to Rs 1,425 crore in Q3 FY23
Sobha Ltd achieved highest-ever quarterly sales bookings in the December quarter in terms of both volume and value. The average price realisation improved to Rs 9,650 per square feet, up 21.9 per cent from the corresponding quarter of last year.
Read more at: https://tinyurl.com/2s4x8ez5
==============================
MUMBAI UPDATES
1) Macrotech Developers' sales bookings up 16% to Rs 3,035 crore in Q3 FY23
In a regulatory filing, Macrotech Developers informed that the company has achieved its "best-ever Q3 (October-December) pre-sales performance of Rs 3,035 crore showing a growth of 16 percent on a YoY basis.
Read more at: https://tinyurl.com/sbpcaxht
2) Mirae Asset Acquires Grade-A Warehousing Space In India
Mirae Asset Credit Opportunities Fund has announced acquisition of a Mumbai-based industrial logistics and warehousing asset for Rs 130 crore, marking first such deal under its India-focused foreign institutional funds allocated for high-grade Indian real estate opportunities.
Read more at: https://www.vccircle.com/miraeasset-acquires-grade-a-warehousing-space-in-india
3) Sonam Kapoor sells apartment in Mumbai's BKC for Rs 32.50 crore
She had purchased this apartment spread over 4,610 sq ft carpet area in super-premium residential project Signature Island in 2015 for Rs 31.48 crore. The buyer has paid stamp duty of Rs 1.95 crore for the registration of the deal that took place on December 29.
Read more at: https://tinyurl.com/mr2vbxrz
4) Coastal Rd: BMC To Finish Boring Of 2nd Tunnel By Jan
With less than one year left for the November 2023 deadline of the Mumbai Coastal Road project, the BMC plans to complete boring works of the second tunnel by next month. The 10.6 km coastal road stretching from Princess Street in Marine Drive to the Worli end of Bandra-Worli Sea Link, will have twin tunnels, each 2.07 km long, from Priyadarshini Park to Girgaum, Chowpatty.
Read more at: https://timesproperty.com/news/post/coastal-rd-bmc-to-finish-boring-of-2nd-tunnel-by-jan-blid3486
5) Sankalp top bidder for stressed hotel unit of Rajesh Lifespaces
Banks received six bids with resolution plans ranging from ₹145 crore to ₹250 crore in the initial round of bidding conducted last month. Sankalp's offer was closely followed by Mumbai-based Rockwood Hotels & Resorts, which offered ₹247 crore payable over eight years, documents accessed by ET showed.
Read more at: https://economictimes.indiatimes.com/markets/stocks/news/sankalp-top-bidder-for-stressed-hotel-unit-of-rajesh-lifespaces/articleshow/96777980.cms
6) SGNP Tunnel: Cost Up Rs 2300 Cr, BMC Gets Centre OK With Rider
The pre-bid meeting process for the Goregaon-Mulund tunnel, to be built under Sanjay Gandhi National Park (SGNP), was wrapped up recently and BMC has asked interested bidders to submit their bids after escalating construction cost around Rs 2,300 crore taking it to around Rs 7,000 crore.
Read more at: https://timesproperty.com/news/post/sgnp-tunnel-cost-up-rs-2300-cr-bmc-gets-centre-ok-with-rider-blid3538
7) Single-window system for self-redevelopment projects in Maharashtra
Of the around 1.20 lakh registered cooperative societies and over 80,000 apartments, nearly 60,000 units are over 30 years old and likely to go for redevelopment.
Read more at: https://tinyurl.com/jjvvrzkx
====================================
GURUGRAM UPDATES
1) What makes Gurgaon a promising real estate investment destination
Gurugram, especially the emerging section of New Gurugram, is the most preferred realty destination in the region. The routes that offer quick access to economic zones like Udyog Vihar, Cyber City, and more spaces that give security to nearby residents have been the first choice of buyers, said Ashwani Kumar, Pyramid Infratech.
Read more at: https://www.livemint.com/money/personal-finance/what-makes-gurgaon-a-promising-real-estate-investment-destination-11670981220961.html
2) Merge old & new property IDs by January 8: ULB to Gurugram civic body
Varshney directed that data integration of the old and new property IDs be done by January 8, since chief minister Manohar Lal Khattar will review the status of the work on January 10.
Read more at: https://realty.economictimes.indiatimes.com/news/industry/merge-old-new-property-ids-by-january-8-ulb-to-gurugram-civic-body/96781144
3) Apply for regularisation or face demolition, illegal colonies told
While 38 applications for regularisation have been received so far by DLSC Constituted for the purpose, the deputy commissioner also said that colonies which don't apply for regularisation by January 18 will have to face demolition.
Read more at: https://realty.economictimes.indiatimes.com/news/industry/gurugram-apply-for-regularisation-or-face-demolition-illegal-colonies-told/96732288
4) Soon, a colony of affordable houses in Gurugram's Sector 9
The Haryana Housing Board has decided to construct houses for people from the economically weaker sections (EWS) in Sect 9 on HSVP land. The proposed houses will be allotted to below poverty line (BPL) families and beneficiaries will be identified through Parivar Pehchan Patra (PPP), housing board officials said.
Read more at: https://timesofindia.indiatimes.com/city/gurgaon/soon-a-colony-of-affordable-houses-in-sec-9/articleshow/96469361.cms
5) About 70% of Gurugram's 2,000 guesthouses are illegal, reveals government survey
District town planner (enforcement) Amit Madholia said despite there being various hotels in the city, these guesthouses in residential areas are functioning as an alternate facility to the various medical, IT and industrial companies set up in Gurgaon.
Read more at: https://realty.economictimes.indiatimes.com/news/hospitality/about-70-of-gurugrams-2000-guesthouses-are-illegal-reveals-government-survey/96446847
6) Summons to Supertech, MD over alleged forgery, criminal breach of trust
Gaurav Vij had alleged in his complaint that he had given money to the company through its representatives for short term investment in September 2012.
Read more at: https://tinyurl.com/yckcc8tk
7) Gurugram civic body will verify properties again after errors in IDs
Last year's survey had concluded that 5.14 lakh properties in areas under MCG's jurisdiction should be taxed, an increase from the 3.7 lakh on paper till then. . Residents alleged that this survey was flawed, with several errors in the property IDs.
Read more at: https://tinyurl.com/27fbefxf
==============================
GLOBAL UPDATES
1) Compass puts HQ up for sublease – but still says agent-facing offices will remain open
Compass' belt-tightening has come for its headquarters. The brokerage, which lost nearly $1 billion between the first quarter of 2021 and the third quarter of 2022, is shopping its headquarters near Union Square for sublease, The Real Deal has learned. Compass hopes to find a taker for all or a portion of the 89,000 square feet it occupies at RFR Realty's 90 Fifth Avenue, with an asking price of roughly $60 per square foot. The company's lease runs through 2025. Compass confirmed that it is soliciting offers.
Read more at: https://tinyurl.com/fh4h2ntu
2) Lenders fail to sell Evergrande's Hong Kong headquarters by tender
Lenders to the office tower, China Evergrande Centre, valued at between HK$8 billion and HK$9 billion ($1.02 billion and $1.15 billion), appointed a receiver in September to seize the asset and tender it for sale with a bid deadline of Oct 31.
Read more at: https://tinyurl.com/2p98b3mj
3) Redfin Reports Pending Sales Drop to Lowest Level Since at Least 2015
Pending U.S. home sales dropped 32% year over year to their lowest level since at least 2015 during the four weeks ending January 1, according to a new report from Redfin (redfin.com), the technology-powered real estate brokerage.
Read more at: https://news.theregistrysf.com/redfin-reports-pending-sales-drop-to-lowest-level-since-at-least-2015/
4) Asia's Largest Real Estate Investment Trust Buys Singapore Shopping Malls For $1.6 Billion
Listed in Hong Kong in 2005, Link REIT owns a HK$234 billion ($30 billion) real estate portfolio that includes shopping malls, car parks and offices. Nearly 80% of the properties it owns are located in Hong Kong, with the rest spread across mainland China, Australia and the U.K. The company has grown into Asia's largest REIT with a market cap of $15.4 billion as of Wednesday.
Read more at: https://www.forbes.com/sites/zinnialee/2022/12/29/asias-largest-real-estate-investment-trust-buys-singapore-shopping-malls-for-16-billion/?sh=69378848180b
5) Manhattan apartment sales fall 29% in Q4 2022, biggest decline since start of pandemic
"Sales contracts for Manhattan apartments plunged by nearly a third in June as the city's scorching real estate market started to cool amid recession fears and declining stocks. New York real estate was on a tear through the early spring, with high prices and strong sales. The median sales price for the second quarter rose to a record $1.25 million, according to data from the firms Miller Samuel and Douglas Elliman. The number of sales — at over 3,800 — was the highest total for the second quarter since the housing boom of 2007."
Read more at: https://www.cnbc.com/video/2023/01/04/apartment-sales-fall-29-percent-in-q4-2022-biggest-decline-since-start-of-pandemic.html
6) Proptech investing had down year in 2022
Property technology (proptech) companies raised $19.8 billion globally from venture capital firms in 2022—a 38 percent drop from the $32 billion raised the year before.
Read more at: https://connectedremag.com/uncategorized/proptech-investing-had-down-year-in-2022/
7) KKR takes over Meta's large 30 Hudson Yards space
The private equity firm is taking another 220,000 square feet set to be left behind by Facebook parent Meta Platforms, sources familiar with the deal confirmed to The Real Deal. The lease was first reported by Bloomberg. KKR already occupies more than 300,000 square feet on 30 Hudson Yards' top 10 floors and in 2021 bought a majority stake in the tower's observation deck, called Edge, for over $500 million.
Read more at:  https://tinyurl.com/2m5jz83t