📢📢 𝐃𝐋𝐅 𝐦𝐚𝐤𝐢𝐧𝐠 𝐚 𝟐𝐧𝐝 𝐚𝐭𝐭𝐞𝐦𝐩𝐭 𝐚𝐭 𝗖𝗿𝗼𝘄𝗻 𝗝𝗲𝘄𝗲𝗹 𝐨𝐟 𝐈𝐧𝐝𝐢𝐚'𝐬 𝐑𝐞𝐚𝐥 𝐄𝐬𝐭𝐚𝐭𝐞 𝐦𝐚𝐫𝐤𝐞𝐭—𝐌𝐮𝐦𝐛𝐚𝐢!
July 26, 2023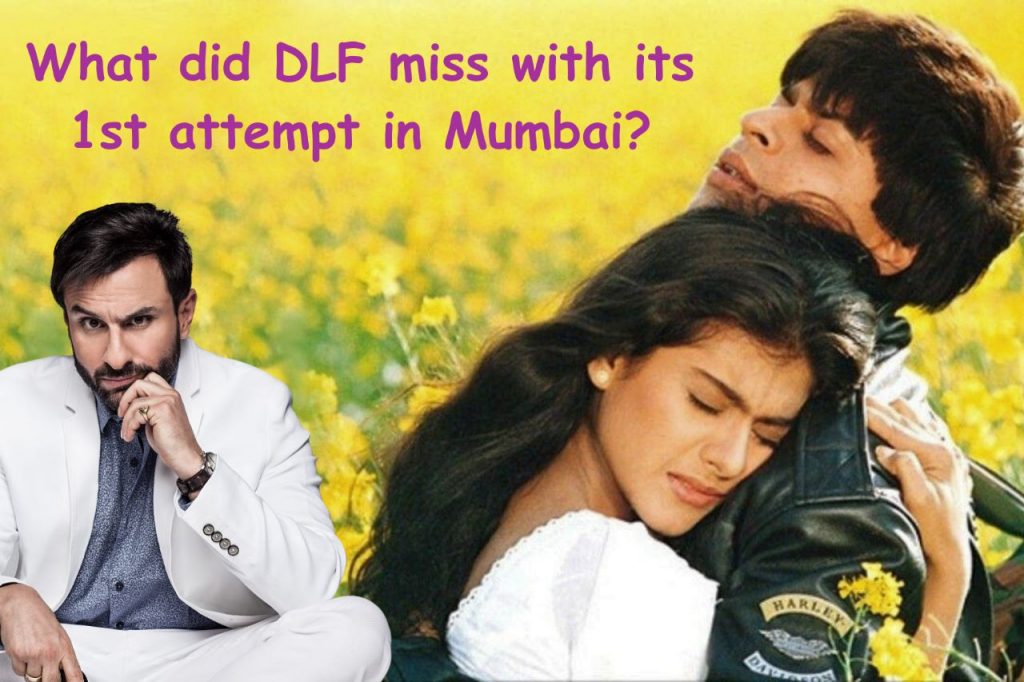 𝐁𝐮𝐭 𝐰𝐡𝐚𝐭 𝐡𝐚𝐩𝐩𝐞𝐧𝐞𝐝 𝐰𝐡𝐞𝐧 𝐢𝐭 𝐜𝐚𝐦𝐞 𝐭𝐨 𝐌𝐮𝐦𝐛𝐚𝐢 𝐭𝐡𝐞 𝟏𝐬𝐭 𝐭𝐢𝐦𝐞❓
The top pick for the news for the past week from our 𝙉𝙚𝙬𝙨𝙩𝙧𝙖𝙘𝙠𝙚𝙧 is 𝐃𝐋𝐅'𝐬 𝐚𝐧𝐧𝐨𝐮𝐧𝐜𝐞𝐦𝐞𝐧𝐭 𝐨𝐟 𝐦𝐚𝐤𝐢𝐧𝐠 𝐚 𝐫𝐞-𝐞𝐧𝐭𝐫𝐲 𝐢𝐧𝐭𝐨 𝐌𝐮𝐦𝐛𝐚𝐢. DLF brand which is synonymous with Gurgaon wants to attempt to make a comeback into Mumbai's Real estate market.
There are many stories of 𝐌𝐈𝐒𝐒𝐄𝐃 𝐎𝐏𝐏𝐎𝐑𝐓𝐔𝐍𝐈𝐓𝐈𝐄𝐒 in every sphere from 𝐘𝐚𝐡𝐨𝐨'𝐬 𝐦𝐢𝐬𝐬𝐞𝐝 𝐨𝐩𝐩𝐨𝐫𝐭𝐮𝐧𝐢𝐭𝐲 𝐭𝐨 𝐛𝐮𝐲 𝐆𝐨𝐨𝐠𝐥𝐞 𝐚𝐭 𝐔𝐒$𝟏 𝐦𝐧 𝐢𝐧 𝟏𝟗𝟗𝟖 𝐚𝐧𝐝 𝐟𝐨𝐫 𝐔𝐒$𝟏 𝐛𝐧 𝐢𝐧 𝟐𝟎𝟎𝟐 𝐨𝐫 𝐒𝐚𝐢𝐟 𝐀𝐥𝐢 𝐊𝐡𝐚𝐧 𝐦𝐢𝐬𝐬𝐢𝐧𝐠 𝐭𝐡𝐞 𝐥𝐞𝐚𝐝 𝐫𝐨𝐥𝐞 𝐢𝐧 𝐃𝐃𝐋𝐉.
DLF's first foray into Mumbai is no less of an interesting story of a Missed Opportunity in Mumbai's Real estate market.
𝐒𝐨 𝐡𝐞𝐫𝐞 𝐢𝐬 𝐡𝐨𝐰 𝐭𝐡𝐢𝐬 𝐬𝐭𝐨𝐫𝐲 𝐩𝐥𝐚𝐲𝐞𝐝 𝐨𝐮𝐭>>>
▶ 𝟮𝟬𝟬𝟱
DLF bought a 17.5 acre land parcel in Lower Parel from National Textile Corporation for 703 crores
▶ 𝟮𝟬𝟬𝟲-𝟮𝟬𝟬𝟵
DLF changed its developmental plans for the plot thrice—from building a retail mall to commercial office buildings to finally a residential project
▶ 𝟮𝟬𝟭𝟬
DLF plans a 90-storey skyscraper project with potential of Rs15,000 crores with total saleable area of 5 mn sq ft
▶ 𝟮𝟬𝟭𝟮
Sold the entire land parcel to Lodha Developers [Macrotech developers] for 2,800 crores
▶ 𝟮𝟬𝟭𝟯
Lodha announces the launch of its project "𝗧𝗵𝗲 𝗣𝗮𝗿𝗸" at the designated land parcel
▶ 𝟮𝟬𝟭𝟴-𝟮𝟬𝟭𝟵
Lodha starts giving the possession of apartments at "The Park"
▶ 𝟮𝟬𝟮𝟯
𝐓𝐨𝐝𝐚𝐲, '𝐓𝐡𝐞 𝐏𝐚𝐫𝐤' 𝐨𝐟𝐟𝐞𝐫𝐬 𝐨𝐧𝐞 𝐨𝐟 𝐭𝐡𝐞 𝐦𝐨𝐬𝐭 𝐬𝐨𝐮𝐠𝐡𝐭-𝐚𝐟𝐭𝐞𝐫 𝐋𝐮𝐱𝐮𝐫𝐲 𝐚𝐩𝐚𝐫𝐭𝐦𝐞𝐧𝐭 𝐢𝐧 𝐋𝐨𝐰𝐞𝐫 𝐏𝐚𝐫𝐞𝐥 𝐰𝐢𝐭𝐡 𝐩𝐫𝐢𝐜𝐞𝐬 𝐚𝐭 𝐑𝐬𝟓𝟓,𝟎𝟎𝟎-𝟔𝟎,𝟎𝟎𝟎 𝐩𝐞𝐫 𝐬𝐪 𝐟𝐭
Will DLF get a second chance like Saif Ali Khan got in Dil Chahta Hai ❓
𝙇𝙚𝙩𝙨 𝙨𝙚𝙚 𝙝𝙤𝙬 𝙩𝙝𝙞𝙨 𝙨𝙩𝙤𝙧𝙮 𝙪𝙣𝙛𝙤𝙡𝙙𝙨……..
#dlf #lodhagroup #luxury #opportunity #mumbai #mumbairealestate