Weekly Real Estate News Tracker- 22 April 2023
April 23, 2023
A lot of activity happened in the Real estate sector this week and you wouldn't want to miss out on any of it! Here's this week's news, Simplease Edition :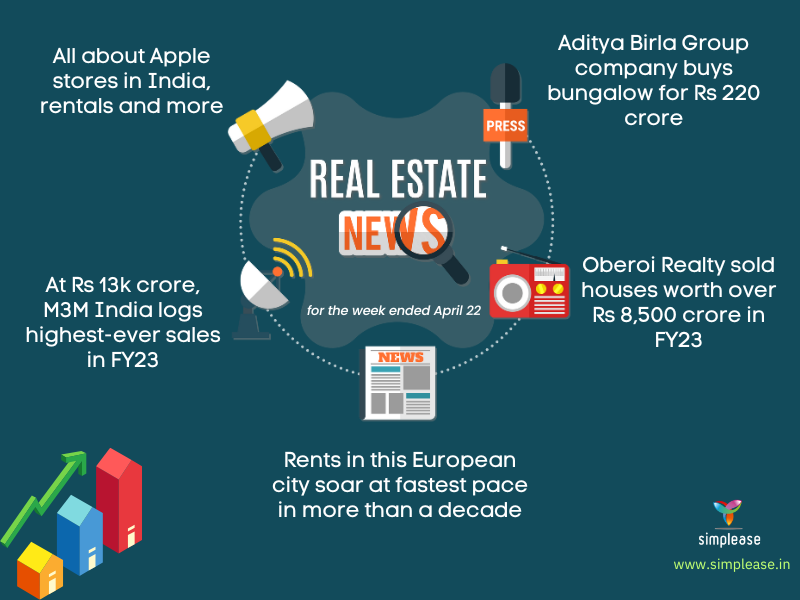 INDIA UPDATES
1. All about Apple stores in India, lease agreements, rentals and more
Though the Delhi store pales in comparison to the Mumbai one in size, the stores are a study in design and detailing. In fact, one expert said the attention to details is something they had not experienced in 15 years of seeing hundreds of fitouts
Read more at: https://tinyurl.com/3cbde57s
2. Average monthly rent for 2BHK flat in north, east Bengaluru rises up to 24% in Jan-Mar: Anarock
Anarock said that Thanisandra Main Road and Marathahalli-ORR in Bengaluru recorded the highest residential rental growth of 24 percent each year-on-year in the January-March period for a standard 2BHK home of 1,000 square feet area.
3. India poised to become 3rd largest construction market in next 2-3 yrs: Piyush Goyal
He said that the Indian real estate sector has been a critical engine of India's growth story, providing large-scale employment and the sector has shown immense resilience in the last few years.
4. Micro Labs' MD buys bungalow in Bengaluru for Rs 66 crore
The deal includes land measuring 12,043.22 sq ft with a bungalow measuring 8,373.99 sq ft at Fair Field Layout, formerly known as Race Course Road, according to the documents
Read more at: https://tinyurl.com/med8u5wz
5. Housing prices see 7% rise during Q1 of 2023 in top 14 cities: Report
The growth in the Indian residential market between January-March 2023 was driven by several factors, including infrastructure growth, government policies, and robust launches
6. CREDAI signs up with building council for 'green' projects

The Confederation of Real Estate Developers' Association of India (CREDAI) has entered into a nationwide tie-up with the Indian Green Building Council (IGBC), with a pledge to build more than 1,000 Certified Green Projects in the next two years and to construct 4,000 green projects by 2030 through adoption of IGBC Green and Net Zero building ratings.
Read more at: https://tinyurl.com/3uucjrmh
============================
MUMBAI UPDATES
1. Oberoi Realty sold houses worth over Rs 8,500 crore in FY23
Oberoi Realty ended the financial year 2022-23 with sales worth Rs 8,572 crore, about 2.2 times the number that sold a year ago, an exchange filing showed. In terms of area it sold about 25.4 lakh square feet in the year just ended, up from the 21 lakh square feet it had sold a year ago.
Read more at: https://tinyurl.com/yzsdadyt
2. Prestige Estates inks pact for 1 million sq ft redevelopment project in Mumbai
The Shivshahi society redevelopment project involves 192 tenements spread over 3.3 acres opposite the GlaxoSmithKline Pharmaceuticals property on Dr Annie Besant Road in central Mumbai
Read more at: https://tinyurl.com/ycyfz46k
3. Aditya Birla Group company buys Mumbai bungalow for Rs 220 crore
The ground-plus-two property acquired by BGH Properties is located along the Carmichael Road, ML Dahanukar Marg. The total constructed area is 18,494.05 sq ft built up and the area of the covered garages is 190 sq ft each. The date of registration was April 10, 2023, the document showed.
Read more at: https://tinyurl.com/4v9nfndv
4. Priyanka Chopra sells commercial property in Mumbai's Lokhandwala
The office space spread over 1,781 sq ft carpet area with 465-sq-ft terrace was leased to the dentists earlier at Rs 2.11 lakh per month. The sale transaction was concluded and registered on April 6.
Read more at: https://tinyurl.com/4jvtvkt2
5. Certus Capital invests Rs 80 crore in residential project in Mumbai's Worli
The project Aakasa, located in the proximity of the upcoming Ritz Carlton Hotel, is estimated to have revenue potential of over Rs 350 crore based on the ongoing property rates in the vicinity.
Read more at: https://tinyurl.com/4cszs86b
6. NCLAT refuses to restrain Salman Khan from taking over his Mumbai property
Actor Salman Khan in 2017, leased an area of 27,650 sqft spread over four floors to TNSI Retail Private Limited, a subsidiary of Future Retail Limited, in Mumbai to run its Foodhall supermarket
Read more at: https://tinyurl.com/muubzbpw
7. MahaRERA fines 12 builders for issuing advertisements without registration numbers
Its officials will now monitor project advertisements on social media platform too and developers, who advertise on there without MahaRERA registration numbers will be penalised.
Read more at: https://tinyurl.com/52ch7zw5
=======================
NCR UPDATES
1. At Rs 13k crore, M3M India logs highest-ever sales in FY23
According to Pankaj Bansal of M3M India, the group is expected to reach Rs 20,000 crore sale in FY24 as residential sector continue to report increase in demand and developer has planned series of acquisition and launches.
Read more at: https://tinyurl.com/22jej4td
2. Gurgaon developers advocate for restoring the stilt-plus-four-floors policy
Developers in Gurgaon are urging to revive the stilt-plus-four-floors policy. The Gurgaon Home Developers Association members argue that infrastructure improvements, and violation checks are better solutions than a blanket ban on constructing fourth floors. 
Read more at: https://tinyurl.com/anzpub3h
3. Noida administration seals Supertech Group's office
The district administration had recently initiated action to recover dues from the real estate group's Supertech Township entity. The action was initiated over recovery certificates issued from the UP Real Estate Regulatory Authority (RERA) .
Read more at: https://tinyurl.com/y68szunm
4. Delhi: Bhikaji Cama and Nehru Place revamp now closer to reality
The DDA in its budget for 2023-24 has kept a provision of Rs 65 crore for the retrofitting and upgrading work in these two commercial centres, which includes the construction of a multi-level car park, an official said.
Read more at: https://tinyurl.com/auxfv5ku
5. Greater Noida Authority approves Rs 4,378 crore budget for FY24; allocates Rs 450 crore for Jewar airport
The Authority has also set aside Rs 1,000 crore for acquiring land in its jurisdiction. Also, land allotment rates have been revised upwards.
Read more at: https://tinyurl.com/2fwpnn82
6. ED freezes 119 bank accounts, luxury vehicles after raids on Agrani Homes
The money laundering case against the company and its promoters, filed under the provisions of the Prevention of Money Laundering Act (PMLA), stems from at least eight FIRs filed by the Bihar Police.
Read more at: https://tinyurl.com/43ffvhfa
==========================
GLOBAL UPDATES
1. Rents in this European city soar at fastest pace in more than a decade
Rents in London are rocketing at their fastest pace in more than a decade as private tenants fight over a dwindling supply of homes. The figures underscore the huge imbalance that remains in the rental market, with 10 prospective tenants for every available property.
2. Singapore real estate is soaring
Rentals of private residential properties increased by 7.4% in the 4th Quarter of 2022, compared with the 8.6% increase in the previous quarter. For the whole of 2022, rentals of private residential properties increased by 29.7% compared with the 9.9% increase in 2021.
3. UK realty huge opportunity for skilled Indian construction workers: Report
The labor shortage in the United Kingdom (UK) may open up new vistas of opportunity for skilled workers in India. According to the Shortage Occupation List released by the UK's Chartered Institute of Building, there were 41,000 job vacancies in the country's construction industry between December 2022 and February 2023.
4. Analysis: Banking crisis scars struggling U.S. real estate stocks
Driving this year's struggles are fears that tumult in the banking sector following the collapse of Silicon Valley Bank in March will make it more difficult for real estate companies to access debt, as banks become more stringent on lending.
Read more at: https://tinyurl.com/mtdsk5mu
5. China's Real Estate Recession Ends With First Growth in Over a Year
China's property industry rebounded for the first time in more than a year, while the government said it will take more measures to boost consumption, adding to optimism about the economy's outlook.
Read more at: https://tinyurl.com/5pu73xrf