Maharashtra's 50% Stamp Duty Concession
June 30, 2023
5 things a Homebuyer needs to know!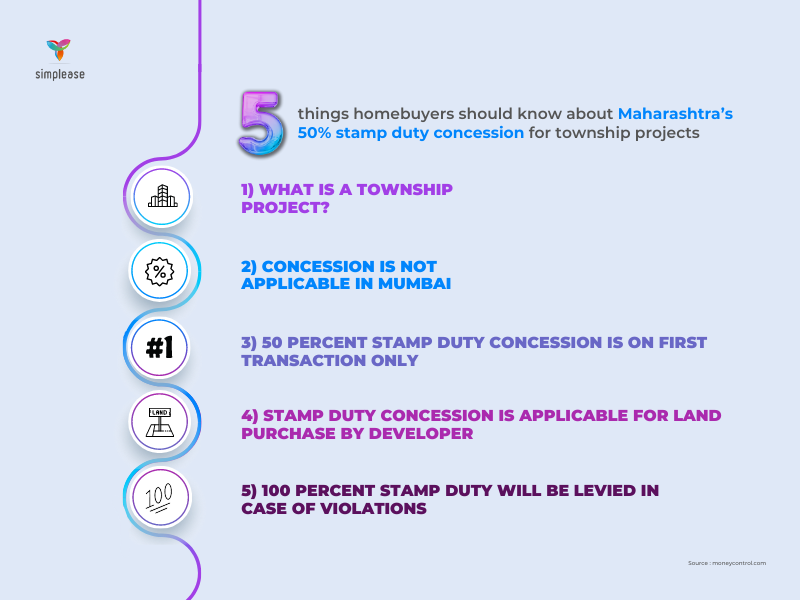 1. What is a township project?
According to Maharashtra Government's definition, an Integrated Township Project can come up where there is a suitable area of 40 hectares or 100 acres at one place.
2. Concession is not applicable in Mumbai
The 50 percent stamp duty concession will not be applicable in Mumbai.
3. 50 percent stamp duty concession is on first transaction only
According to the order, the stamp duty concession of 50 percent will be applicable for the first transaction made by the developer to the first homebuyer, and not for resale transactions.
4. Stamp duty concession is applicable for land purchase by developer
The Maharashtra Government has said that remission of stamp duty is also applicable for developers of township projects at the time of purchase of land from the landowners.
5. 100 percent stamp duty will be levied in case of violations
According to the Maharashtra Government order, the homebuyers or developers will be liable to pay the entire 100 percent stamp duty in case there is a violation of the conditions or of the regulations of the Integrated Township Project.