Understanding the "FOMO" in Gurgaon Real Estate Market
May 5, 2023
The feeling has been accentuated by daily bombardment of news items like
"DLF sells 1137 flats for over Rs. 8,000 crore within three days in Gurugram" https://shorturl.at/clzIR
"At Rs.13k crore, M3M India logs highest ever sales in FY23". https://shorturl.at/bkOZ5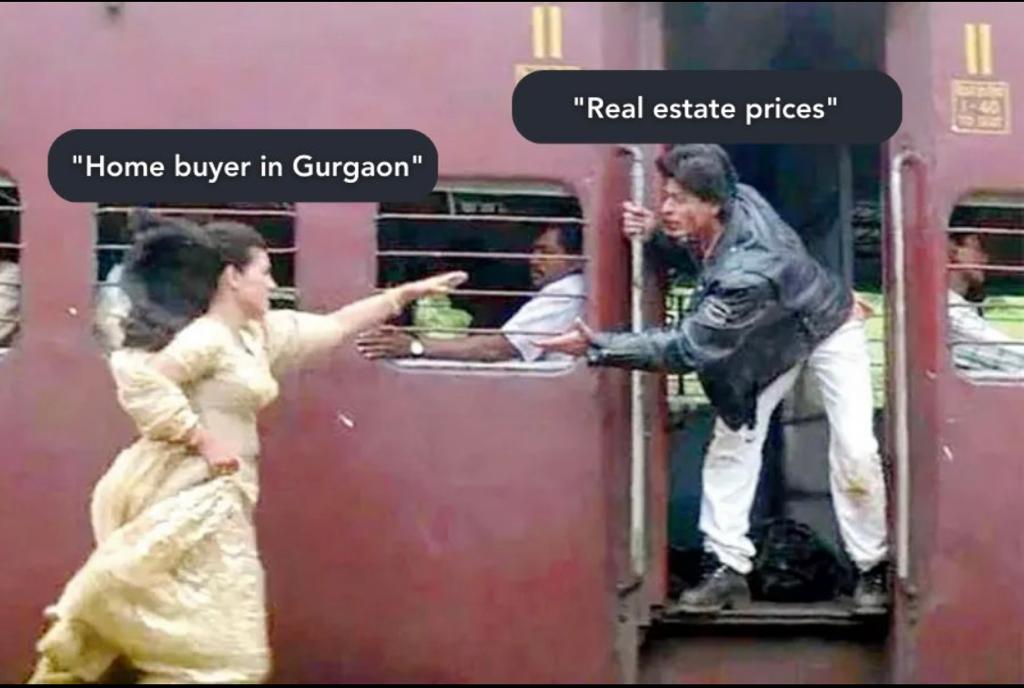 This feeling of FOMO among consumers has been triggered by the spurt in prices in Gurgaon real estate market in the last few months propelled by robust buying.
One of the key factors for driving this demand for real estate has been the "𝗚𝗿𝗲𝗮𝘁 𝗠𝗶𝗴𝗿𝗮𝘁𝗶𝗼𝗻" from Delhi.
A decade back there was a great inhibition of moving from the National Capital to Gurgaon but a lot has changed since then and we are witnessing significant movement of people from Delhi to Gurugram [as it is now called]
W𝗵𝗮𝘁's 𝗱𝗿𝗶𝘃𝗶𝗻𝗴 𝘁𝗵𝗶𝘀 𝗻𝗲𝘄 𝘁𝗿𝗲𝗻𝗱 𝗼𝗳 𝗺𝗼𝘃𝗶𝗻𝗴 𝗳𝗿𝗼𝗺 𝗗𝗲𝗹𝗵𝗶 𝘁𝗼 𝗚𝘂𝗿𝗴𝗮𝗼𝗻 ?
👉🏼𝗡𝗲𝘄 𝗰𝗼𝗿𝗽𝗼𝗿𝗮𝘁𝗲 𝗼𝗳𝗳𝗶𝗰𝗲 𝗰𝗼𝗺𝗶𝗻𝗴 𝘂𝗽 𝗶𝗻 𝗚𝘂𝗿𝗴𝗮𝗼𝗻 – Global MNCs like Meta [Facebook], Amazon, Hyundai to name a few have opened up offices in Gurgaon resulting in more people wanting to move closer to these offices.
👉🏼𝗧𝗵𝗲 𝗮𝗹𝗹𝘂𝗿𝗲 𝗼𝗳 𝗹𝗶𝘃𝗶𝗻𝗴 𝗶𝗻 𝗴𝗮𝘁𝗲𝗱 𝗰𝗼𝗺𝗺𝘂𝗻𝗶𝘁𝗶𝗲𝘀 – Gurgaon offers plenty of options of living in "gated communities" across all categories from affordable to ultra luxury segments unlike Delhi which is more aligned towards bungalows, standalone building and housing colonies.
👉🏼𝗙𝗮𝗺𝗶𝗹𝘆 𝘀𝗲𝘁𝘁𝗹𝗲𝗺𝗲𝗻𝘁𝘀 – An unfortunate consequence of COVID has been an increase in family settlement of properties. For people having a property in Delhi which needs to be distributed among family members, Gurgaon provides an option of disposing the Delhi asset and buying an equally good or better property in Gurgaon and still be left with some surplus.
𝗦𝗼 𝘄𝗵𝗮𝘁 𝘀𝗵𝗼𝘂𝗹𝗱 𝗼𝗻𝗲 𝗱𝗼 𝗶𝗻 𝘁𝗵𝗶𝘀 𝘀𝗰𝗲𝗻𝗮𝗿𝗶𝗼 𝗼𝗳 𝗙𝗢𝗠𝗢❓
 ✳️ 𝐈𝐟 𝐲𝐨𝐮 𝐡𝐚𝐯𝐞 𝐚𝐥𝐫𝐞𝐚𝐝𝐲 𝐛𝐨𝐮𝐠𝐡𝐭 𝐬𝐨𝐦𝐞𝐭𝐡𝐢𝐧𝐠 𝐥𝐚𝐬𝐭 𝐲𝐞𝐚𝐫, pat your self on the back for timing the market well !! You never know if the markets let you get that feeling again!
✳️ 𝗜𝗳 𝘆𝗼𝘂 𝗮𝗿𝗲 𝗶𝗻 𝘁𝗵𝗲 𝗽𝗿𝗼𝗰𝗲𝘀𝘀 𝗼𝗳 𝗯𝘂𝘆𝗶𝗻𝗴 𝘀𝗼𝗺𝗲𝘁𝗵𝗶𝗻𝗴, don't let the FOMO get better of you. At the end of the day, you may be investing your life savings into the home purchase. Don't fret about missing the rally. The last thing you want is paying a premium & buying something you don't like.
As rightly quoted
""𝗙𝗢𝗠𝗢 𝗺𝗮𝘆 𝗯𝗲 𝗮𝗻 𝗼𝘃𝗲𝗿𝘄𝗵𝗲𝗹𝗺𝗶𝗻𝗴 𝗲𝗺𝗼𝘁𝗶𝗼𝗻 𝗯𝘂𝘁 𝗰𝗮𝗻𝗻𝗼𝘁 𝗯𝗲 𝗮 𝗶𝗻𝘃𝗲𝘀𝘁𝗺𝗲𝗻𝘁 𝘀𝘁𝗿𝗮𝘁𝗲𝗴𝘆""
Follow us for more updates- https://www.linkedin.com/company/simplease-india/