Weekly Real Estate News Tracker- 29 April 2023
April 30, 2023
A lot of activity happened in the Real estate sector this week and you wouldn't want to miss out on any of it! Here's this week's news, Simplease Edition :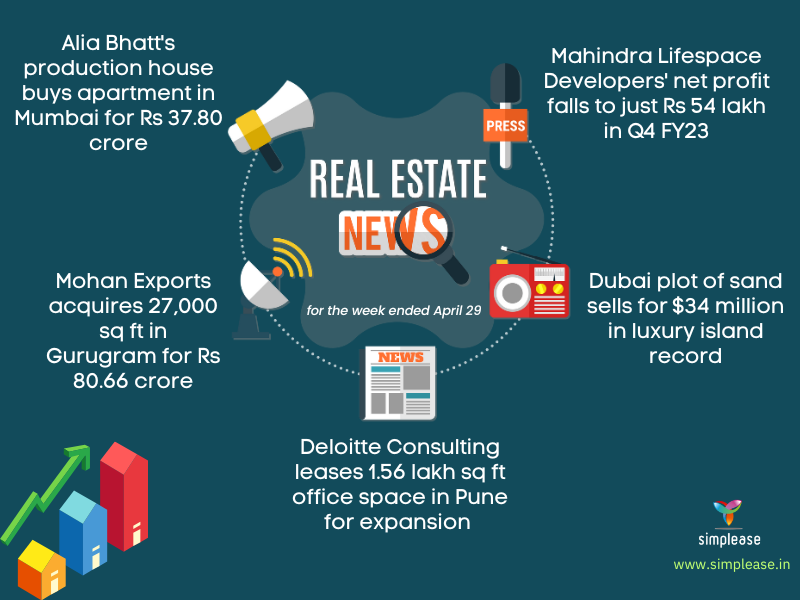 MUMBAI UPDATES
1. Mumbai's April property registrations down 16% on year, 25% on month: Govt data
Mumbai city and suburbs reported a 16 percent year-on-year (YoY) and 25 percent month-on-month drop in property registrations in April 2023 over April 2022 and March 2023, respectively.
Read more at – https://tinyurl.com/3c5vv7we
2. Alia Bhatt's production house buys apartment in Mumbai's Pali Hill for Rs 37.80 crore
The apartment on the sixth floor of residential tower Aerial View on Nargis Dutt Road has two dedicated car parking slots. The transaction was concluded on April 6 and was registered on April 10.
Read more at – https://tinyurl.com/3at49uxb
3. MahaRERA cautions homebuyers against 308 projects facing insolvency proceedings
Out of these 308 projects, the authority has highlighted that 115 projects are ongoing and in 32 projects, more than 50% of the inventory has been sold and registered.
Read more at – https://tinyurl.com/y4z8sbfx
4. Nirmal Lifestyle's Dharmesh and Rajiv Jain held for refusing 'possession to homebuyers'
The Economic Offences Wing (EOW) of the Mumbai Police has arrested two developers namely Dharmesh Jain and Rajiv Jain, of Nirmal Lifestyle for allegedly failing to hand over the flats to around 34 homebuyers after taking money from them over, police officials confirmed.
Read more at – https://tinyurl.com/5n6n3ymf
5. Bombay HC sets aside acquisition of suburban Mumbai plot by SRA
The HC said, "owner had shown his readiness and willingness" to develop the writ property and has been deprived of exercising his preferential rights to develop the property.
Read more at – https://tinyurl.com/42u7ye9a
6. Properties of Navi Mumbai based builder auctioned to recover Rs 4.8 crore
MahaRERA had issued as many as 33 warrants to recover a total sum of Rs 6.5 crore from developer NK Bhupeshbabu.
Read more at – https://tinyurl.com/4bkub7xm
==========================
INDIA UPDATES
1. Mahindra Lifespace Developers' net profit falls to just Rs 54 lakh in Q4 FY23
Mahindra Lifespace Developers' total consolidated income stood at Rs 270.26 crore in Q4 FY23, a growth of 74.34 per cent from Rs 155.02 crore it recorded in the similar quarter last year.
Read more at: https://tinyurl.com/8pcd2uhh
2. SWAMIH Fund for stuck realty projects delivers 23,000 homes, unlocks liquidity worth Rs 35,879 crore
The SWAMIH Fund backed by the government aims to deliver 20,000 more homes by the year-end in Tier 1 and 2 cities. So far, the fund has given preliminary approval to about 1.1 lakh units and final approval to 83,000 homes
Read more at: https://tinyurl.com/2z59nvy5
3. Deloitte Consulting leases 1.56 lakh sq ft office space in Pune for expansion
The consultancy firm has leased 77,969 sq ft each on the 10th and 11th floors for monthly rents of Rs 79 and Rs 80 per sq ft, taking its total pay-out for 10 years to Rs 176 crore as the base rent including escalations.
Read more at: https://tinyurl.com/ayc6h4hd
4. Dalmia Bharat executes definitive agreements with JAL to acquire cement assets
Dalmia Cement (Bharat) Ltd (DCBL), a subsidiary of Dalmia Bharat, on Tuesday executed definitive agreements with JAL for the acquisition of JP Super Cement Plant in UP at an enterprise value of Rs 1,500 crore and costs and expenses of up to Rs 190 crore.
Read more at: https://tinyurl.com/27etjud8
5. Managed offices provider DevX raises $3 million from family offices for expansion
The funds will be used for Gujarat's largest managed office space provider's expansion and to more than double its portfolio to 2 million sq ft from the current 900,000 sq ft under management with 25 centres across 11 cities.
Read more at: https://tinyurl.com/y7wx5u2d
6. Income tax department launches searches at Tamil Nadu-based real estate firm
In a statement, G Square said "over the past few months, our organisation has been subjected to unwarranted persecution from multiple fronts through unfounded allegations, with no evidence to back them up."
Read more at: https://tinyurl.com/48kd6feu
7. Over 3.8 lakh property owners in Nagpur didn't pay property tax last year
The data reveals that the highest number of defaulters is from Ashi Nagar zone where 88,633 property owners owe ₹114.44 crore to the NMC, followed by Laxmi Nagar zone, where 35,707 owners have defaulted on paying ₹81.74 crore tax.
Read more at: https://tinyurl.com/4sazpmmj
======================
NCR UPDATES
1. Mohan Exports acquires 27,000 sq ft at DLF Horizon Centre in Gurugram for Rs 80.66 crore
In 2021, DLF repurchased Hines' 51.8% stake in one tower for Rs 780 crore. Currently, DLF and its family members hold 60% of the entire Horizon Centre.
Read more at: https://tinyurl.com/yrdnxjh6
2. NCLT approves Rs 990 crore debt resolution offer for Sare Homes unit
KGK Realty has a 74% share in the consortium and Dhoot Realty has a 24% share, according to an order uploaded on NCLT's website on 24 April.
Read more at: https://tinyurl.com/42t33nek
3. Nexus Select Trust to raise up to Rs 3,200 crore from its retail REIT public issue
Earlier, Nexus Select Trust had planned to raise up to Rs 4,000 crore from its proposed Initial Public Offer (IPO). The company has filed its offer document with market regulator SEBI and the issue will hit the market in the second week of May.
Read more at: https://tinyurl.com/ydk56jbp

4. Gurugram: DTCP scraps OC of Malibu Towne's club over illegal construction
According to sources, the department may also seal the club building following violations of the Haryana Development and Regulation of Urban Areas Act, 1975.
Read more at: https://tinyurl.com/2ev5wvjk

5. Noida: Land rates hike by around 10 percent
The decision to hike the land rates was approved at the authority's recent board meeting. Several decisions were taken, including the hike in land rates, modifications in group housing plot allotment and a hike in the authority's budget.
Read more at: https://tinyurl.com/4uysdees
6. Gurugram: Illegal gates, commercial spaces in Vatika Next, builder served notice
As per DTCP guidelines, installing gates at entry and exit points in licenced colonies is illegal, if prior permission from a competent authority, as envisaged in the Haryana Development and Regulations of Urban Areas Act, 1975, are not taken.
Read more at: https://tinyurl.com/ynvcru3w
===========================
GLOBAL UPDATES
1. Dubai plot of sand sells for $34 million in luxury island record
It's a bunch of sand on a human-made island in Dubai, and it just sold on April 19 for 125 million dirhams ($34 million), setting a record in a market that continues to benefit from an influx of foreign wealth.
Read more at: https://tinyurl.com/2p9v456f
2. You can now apply to live in this 3D-printed Texas neighborhood
Marketed as "a new standard for housing solutions," Sunday Homes is slated to be a combination hotel and homeowners association, with 30-some houses sharing luxurious amenities with a relocated incarnation of the local El Cosmico hotel. All of the dwellings will be 3D-printed, as will the hotel — an international first.
Read more at: https://tinyurl.com/5x5a7j2s
3. Singapore housing rates rise for 12th straight quarter amid global slowdown
Property values climbed 3.3% in the first three months of the year, Urban Redevelopment Authority figures showed Friday. That compares with a preliminary estimate of 3.2% and a 0.4% gain in the previous quarter.
Read more at: https://tinyurl.com/szc5pxrb
4. Housing optimism is back in Canada, boosting consumer confidence
The national benchmark price for a home climbed 0.2% to $524,000 in March, the first monthly increase a year. Canadians are growing more optimistic as the outlook for real estate steadily improves and the economy grinds ahead with few signs of an imminent recession.
Read more at: https://tinyurl.com/3btz476p
5. China completes comprehensive unified real estate registry, a boon for sector development
China has completed a comprehensive, nationally unified real estate registry, Minister of Natural Resources Wang Guanghua announced on Tuesday, marking a major breakthrough in the country's decade-long effort to establish a unified property registration system.
Read more at: https://tinyurl.com/y6erynmf
6. Candy Says Property Buyers Want Dubai Luxury, Not London Crime
"You're seeing a flow of money there like you've never seen before," says Candy, explaining that more buyers are adjusting to the idea of living in the United Arab Emirates. He contends they're fed up—both with crime in capitals like London and because "some of the values that we once cherished in the Western countries are not the same values that we've got today."
Read more at: https://tinyurl.com/3r2jx744
7. Australia's Home Rents Surge Most in 13 Years as Crisis Worsens
Australian home-rental prices recorded their biggest annual increase since 2010 in the first three months of the year as a combination of low vacancy rates and rising immigration trigger a housing crunch.
Read more at: https://tinyurl.com/mrynuvck